Building a D4
---
The Boat
Having a bigger keelboat usually requires some sort of small tender to allow you to get to shore from an anchorage. I dislike inflatable dinghys because they require a motor and they disintegrate quickly. So I thought the best thing would be a small pram that would fit on the foredeck or tow behind. There are loads of small designs out there; I settled on a D4. The price may have had something to do with my choice.
Here are the specifications.
Displacement - Empty:
60 lbs.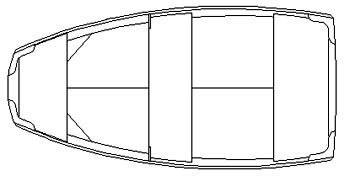 This time I chose to use Okoume marine plywood instead of fir. It was easier to work and has better stability than fir. I did not build the sail version; that's a bit more complicated and I wanted it to go together quickly.
I'll spare the construction details. Suffice it to say it was pretty easy. My final decision was to use porch paint instead of expensive marine paint. So far it's held up pretty well.
The true test was bringing it along for a long weekend trip. I towed it behind Melantho and it behaved very well. So well in fact that I don't plan to put it on the foredeck. Coming back I faced a stiff 20 knot breeze with the usual nasty Chesapeake chop. My D4 dutifully followed on her leash and didn't even ship any water. I am very impressed.