Cal 33-2
---
A Little Bit Bigger
And so it goes. We started looking for a boat that had a bit more modern interior. After looking at boats less than 10 years old, and their less than stellar stability numbers, we decided to go with the Cal 33-2. It may seem like I am a Cal lover since this is the third Cal I've owned. It's more about the right boat at the right time; they could have been Morgans, or Beneteaus, or Sabres.
The Boat
The Cal 33-2 is from the design office of C. Raymond Hunt and Associates. Mr. Hunt had passed on to Fiddler's Green before this design, so it was mostly Peter Boyce putting the design together with the help of the other partners. The models were built in a plant in Fall River; the same plant that did the O'Day sailboats. They had a good reputation as a production builder although they succumbed to the collapse of the boat market in 1989. We purchased hull number 66 which was built in 1986.
Here are the specifications.
Waterline Length:
27.5 ft.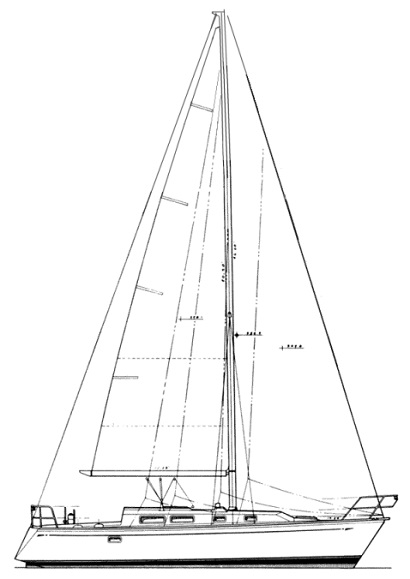 I crewed on this boat several years with the previous owner. He kept it in good shape inside and out. I only worked the foredeck, so I wasn't familiar with what went on aft of the mast, but I knew that the boat had pretty good potential and was the size and speed of what my bride and I were looking for. And the cruising accommodations were better even though they hadn't been used much in the last dozen years. And thus we took on
Melantho 2